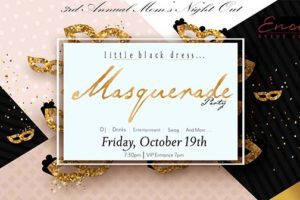 The San Diego Moms Blog is excited to announce our 3rd Annual Moms Night Out on Friday, October 19th from 7:00pm-10:30pm at Encore Event Center.
Pick out your best party dress, (black is the color of the evening) and join us for a Masquerade-themed evening. Because every Mom deserves a night of mystery and intrigue with friends, new and old.
Early Bird Tickets are on sale now (Prices will go up October 1)
$15 – General Admission
$25 – VIP
Buy Tickets Here – http://bit.ly/2Nix1oJ
If you missed out last year, you definitely don't want to miss out this year. Our hosts Encore Event Center will not only provide an amazing venue, they will keep the party going with their resident DJ, cash bar (beer, wine and premium drinks starting at $6) and an onsite photo-booth.
Throughout her career, comedian Stephanie Blum has brought audiences into hysterics with her take-no-prisoners approach to stand up. As a mother of three and former school psychologist, this street smart Brooklyn native has a strong opinion on just about everything, especially parenting, marriage and her most guilty pleasure, pop-culture.
She inspires audiences with her highly-acclaimed one woman stage show, When I Cough, I Wet Myself and contributes her humorous writing talent to Child Magazine, Parents Magazine, The Hot Moms Club and The Comedy Thesaurus.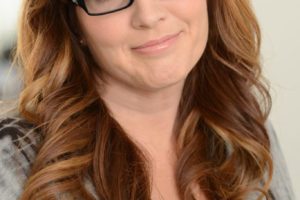 After all that laughter, head over to meet, Dr. Minna of LV Chiropractic and Wellness she will be providing complimentary chair massages on a first come first serve basis.
More than chiropractors, both Dr. Minna and Dr. Vu take great pride in caring for their community.
At LV Chiropractic and Wellness, not only will you experience state of the art chiropractic techniques, you will also receive nutritional counseling, learn corrective exercises, receive lifestyle advise and massage therapy.
Don't worry about having enough time to pull off an adorable pinterest hairstyle, we have you covered.
Stop by the braid bar, where local hairstylist Lizbeth Vargas, will be offering beautiful braid accents, on a first come, first serve basis.
Head over to Jimbos naturally sponsored table for a delicious salad with cashew dressing.
Chef Joann is setting up a beautiful spread of appetizers for our mamas. All of her food is gluten free and homemade.
Made with Extra Love has all our sweet treats covered, stop by and give them some extra love.
Be. Dance Move. Connect is ready to meet you!
Be. is the intersection that joins group fitness, holistic wellness, social club, and dance crew into a beautiful place of community. It's a place where living healthy is a way of life and we all support one another in becoming better versions of ourselves. We will support each other as we experiment and push past our comfort zones. Reach deeper into ourselves to better relate to each other. And continue to create a loving and nonjudgmental space to Be. We come to move but stay to connect.
San Diego Moms Blog team photographer and owner of Laura D. Weatherly Photography , will be our resident photographer of the night. As a mom of two girls, she understands the importance of capturing special and fun moments.
Make sure to check out the post event blog to see if you and your girlfriends are featured!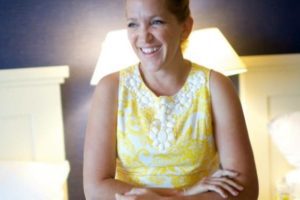 San Diego Moms Blog is currently accepting sponsors for this event.
If you are interested in reaching your local community in person and through our social media/website, there are various ways to participate.
Email [email protected] for more information.